From: USA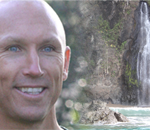 James Higgins is a leading instructor in the San Francisco Bay Area where he was The Teachers Director for Yoga Works in 2009. Interweaving his long-term dedicated studies of Vinyasa Yoga with his Vipassana meditation experience, James offers a unique, appealing, and challenging Hatha Vinyasa practice.
With a strong emphasis on the integration of physical, mental and emotional wellness, each class holds the intention for peaceful healing, personal evolution, and a deeper understanding of the heart.
Using Buddhist wisdom, spiritual insight, personal development and conscious leadership he composes a journey that enables his students to experience the very best of themselves in body, mind and spirit.
James leads retreats, and teaches in the U.S., Mexico, Europe and Asia. He's been a presenter at Kripalu and at The Yoga Journal Conferences in America.