Book now
Intensive 200 h Vinyasa flow yoga teacher training, 2017
Date: 04/09/2017 – 29/09/2017

Yoga style:
vinyasa flow

Teacher:
John Kraijenbrink, Sara Bigatti
Yoga Alliance registered training with international yoga teacher certificate,
with John Kraijenbrink (the Netherlands, E-RYT 500)
and Sara Bigatti (from Italy, RYT500)
Dates:  2017, Sept 4-8, 11-15, 18-22, 25-29.
every day 8 am – 5 pm
weekends are free to have a rest, study, travel and sightseeing

Language: English
Join Budapest Yoga and master teacher John Kraijenbrink for a 200 hour vinyasa flow yoga teacher training in Budapest, Hungary.
Ancient wisdom for nowadays problems.
Stress, obesity, food allergies, burn-outs, shoulder and neck pains. The ancient wisdom of yoga has surprisingly simple answers for the problems we have today.
In this yoga vinyasa flow training you will learn how to make creative, fun, challenging and relaxing flows. How to theme your flow, how to build a flow for challenging poses, how to make a relaxing flow and how to heal the body through asanas (poses), pranayama (breathing exercises) and the right food and how to calm the mind through meditation to find that ultimate happiness all the yogis are talking about.
You will learn how to apply the ancient yogic wisdom on your own life and that of future students, so you can truly help them. But most of all: you will learn how to teach a class, how to be a yoga teacher that stands out and how to make playful, challenging and creative yoga sequences that will make your students come back for more. 
About the yoga style – vinyasa flow yoga
Vinyasa Flow is one of the most popular forms of yoga: it's dynamic, relaxing and creative. A flow is like a story, triggering you, opening you up, bringing you deeper in each pose, strengthening and healing your body and quieting your mind. 
Covered topics:
anatomy,
alignment,
asanas (standing poses, forward folds, backbends, inversions)
intelligent sequencing,
history/lineage of yoga,
sutras, bhagavad gita and other sources of yoga,
meditation,
philosophy,
pranayama,
practice teaching,
the business of yoga,
ethics,
theming and music,
and the how and why of taking the seat of a teacher
With this training you can learn how you can deepen your own yoga practice, learn how to live a yogic life full of happiness and how to teach others to do the same.
Required yoga experience:
We suggest you to have a 1 year regular yoga practice before the training starts.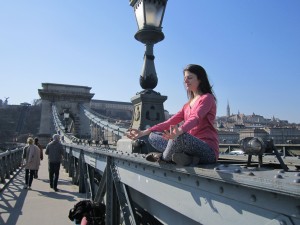 Schedule
Each day starts with an asana practice, followed by lectures, study, and group activities.
After lunch, the afternoons are filled with pose and alignment practicum, teaching fundamentals, practice teaching and yoga philosophy.
Outside the group classroom hours, journaling, reading, homework assignments, and self-study are required parts of the training.
The schedule is Monday to Friday, 8 am-5 pm.
Examples of master workshops include Restorative Yoga, Arm Balances + Inversions, Partner Yoga and Acro Yoga.
About John Kraijenbrink, the Dutch Smiling Yogi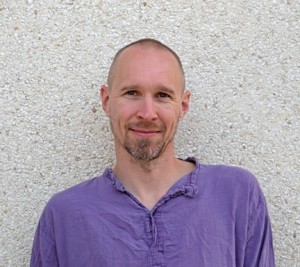 E-RYT500 yoga teacher, massage therapist
John Kraijenbrink is an experienced (E500 RYT) yoga teacher, who is well know for his fun, playful hard, or extremely relaxed yoga classes and for the simple way he 'translates' ancient yogic wisdom in solutions for now-a-days problems. He helps yogis to become a teacher and helps already settled teachers to stand out. He combines his knowledge of yoga with that of the human body and mind; giving his classes and his yoga teacher trainings an enormous depth. John teaches internationally at yoga Teacher Training Courses, Retreats, Festivals and yoga schools. He is born and raised in the Netherlands, but now lives around the world. 
Started as a yoga skeptic he is now a representative of the 'new' yoga; combining strong, fun vinyasa flow classes with down to earth yoga philosophy which you can incorporate in your day-to-day life. 
He doesn't believe in dogmas but in joy as the foundation of devoted practice. His classes are fun, but physically and mentally challenging with the aim to look deeper inside yourself and 'put the garbage out' and let go of old emotions, so you can live free-er and happier. He is a classic yogi, with a tailor made practice of asanas, pranayama and meditation for everyone and at the same time a yoga rebel combining yoga, shamanism and other spiritual views to guide you on your walk of life. 
You can learn more on John, his view and classes on his website www.dutchsmilingyogi.com, or visit his YouTube channel www.youtube.com/user/BlauweParelYoga.
About Sara Bigatti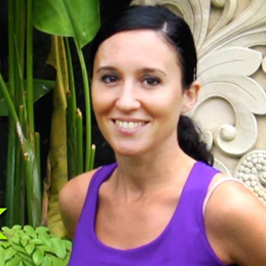 RYT500 Vinyasa Flow Yoga teacher, CEO of 'La Scimmia Yoga'
Sara Bigatti is an Italian, RYT500 Vinyasa Flow Yoga teacher and CEO of 'La Scimmia Yoga', an on line project that she created to share her passion of Yoga.
For the last 12 years, she has been travelling around the world, teaching yoga in Mexico, Indonesia, Taiwan and Italy.
She lived for 5 years in Mexico, where she also did her 200 hours TTC. She directly started teaching in the school she was studying. Alongside that she was teaching in retreats and participating in a 'donation based' program for teaching Yoga at the local community.
In January 2016 she went to India to study yoga at Sampoorna Yoga School (RYT300).
Since 2013 Sara is the CEO of the project 'La Scimmia Yoga'- http://www.lascimmiayoga.com/
Through this web site, she has created a big community of yogis, that follows her; not only on the web site, but also on her YouTube channel – http://www.youtube.com/lascimmiayoga – Facebook – http://www.facebook.com/lascimmiayoga – and Instagram – http://instagram.com/la_scimmia_yoga
In 2014 she started a collaboration with the Italian teacher Alberto Vezzani and became part of the Yogare team – http://www.yogare.eu/
Sara's dream is to inspire new yogis by sharing her passion and experience. Her videos and classes are all inspired by this idea: sharing, practicing and living a yogi life.
Fees (you can choose from 2 options):
1/ Early bird fee: 1790 EUR (with VAT and tax) if paid in full until May 25, 2017.

to be paid in 2 parts: 300 EUR application fee is due together with the application and second payment 1490 EUR
until May 25, 2017.
2/ Late registration fee from 26 May, 2017: 1950 EUR (with VAT and tax) if paid in full until 20th August 2017. To be paid in 2 parts: 300 EUR application fee is due together with the application and second payment 1650 EUR until 20th August 2017. 
What does the training fee include?
training manual
180 contact hours (20 hours home study)
The training fees does not include any accomodation or food. We offer you as an accomodation option to sleep in the studio on yoga mats for 2000 HUF/night (appr. 8 EUR/night). Blankets and pillows are included. We are very central located, you can go out for a lunch in the neighborhood or order with home delivery, we help you to find good places. You can use our refrigerator in the studio.
yoga mats, props are free for use in the studio
Yoga Alliance certificate (if you meet all requirements of the exam)
exam fee is included
taxes (27% VAT)
Payment methods:
bank transfer (in order to reduce bank transfer fees you have 2 options)
if you send your EUR fee from abroad or you send EUR from Hungary:
Our EUR bank account:
Company:  Yoga Room Kft.  1034 Budapest, Viador utca 18, Hungary
Bank name:  CSOB Bank, Slovakia
IBAN: SK61 7500 0000 0040 1894 9896
SWIFT: CEKOSKBX
EU VAT Nr: HU24698720
If you send your fee from a Hungarian HUF account, and wanna pay in HUF
Our HUF bank account:
Yoga Room Kft. 16200223-10041156-00000000 (Magnet Bank)
If you would like to pay in HUF, please calculate the fee in HUF on a daily exchange rate at www.mnb.hu
credit / debit card (at budapestyoga.com webpage or in the studio)
you will be able to pay in 2 parts: First you pay 300 EUR as an application fee. To pay the second part later, you have to sign in again to our website and pay the rest- according to your choice (early bird or not).
cash in the studio's backoffice (ASRAM Pest) Mon-Fri 9:30 am-5:00 pm
For more information please call or message us:
studio owner, Nora: +3620-475-9665 (mobile) /or:
Betti in our office: Mon-Fri 9:30 am-5 pm + 36 20 257 6443 (mobile)   or +36 1 780 6245 (phone)
E-mail:  iroda@jogakozpont.hu
BOOKING instructions:
You can download the booking form and payment conditions from here:
application form_VinyasaFlow_2017
See you soon in our studio!
---
Do you have questions? Please contact us!
Bookings
Bookings are closed for this event.