Book now
Intensive 200 h hatha yoga teacher training, 1-31 July 2016
Date: 01/07/2016 – 31/07/2016

Yoga style:
hatha yoga

Teacher:
Andrea Kiss
200 hour Yoga Alliance registered training with international certificate
with Andrea Kiss, Hungary-USA, E-RYT 200
---
1-31 July, 2016 (Weekdays Mon-Fri)

Dates: 1 July; 4-8 July; 11-15 July, 18-22 July; 25-29 July; 30-31 July / every day appr. 8 am-5 pm
weekends inbetween the weeks are free to have a rest, study, travel and sightseeing
Language: English

---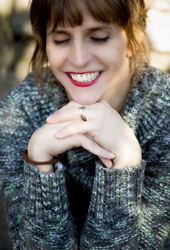 Join Budapest Yoga for a 200 hour hatha yoga teacher training in Budapest, Hungary.
For one month we'll practice and deepen our asanas, learn pranayama, discover the beauty of chanting, learn yoga philosophy, discuss our development and Meditate!!!!!
With this experience you will deepen your knowledge and transform your life, and you'll be better equipped to share this miraculous science with your students through your unique voice as a teacher. 
Even if you are not planning to be a teacher this one month will help you deepen and expand your practice. 
As a former dancer I love the beauty of movements and I teach asanas which are not only well aligned but also presented with grace. Through hard work we'll deepen our flexibility and strength. Our practice will reflect our understanding of the true body-mind-soul connection which will come alive in our asanas and in our everyday lives. 
We'll also explore meditation which is the ultimate practice. 
You will learn what is means to be a teacher and more importantly what it means to be a leader. Through this training you will have a comprehensive understanding of what it means to teach others, learn about yourself, explore your yoga practice and expand your mind. This 200-hour teacher training will create a meaningful and lasting transformation in your life both on and off your mat.
About the yoga style

The practice allows students of all levels to be challenged in the same class. Andrea has learned from many great teachers and appreciates different styles of yoga, which she incorporates into the yoga course. Her philosophy of yoga is that our commitment to the path and accumulation of knowledge guides our everyday thoughts and actions.

Required yoga experience:
We suggest you to have a 1 year regular yoga practice before the training starts.
Topics covered on the training

yoga asanas (standing poses, forward folds, backbends, inversions)

alignment principles

yoga physiology and anatomy

chakras and energy flow in the body

yoga philosophy in daily life (the eight limbs of yoga, yoga history, breathing, meditation, perception of self)

how to find your own voice

how to provide powerful assists to your students

pranayama (breath) techniques

business of yoga
Andrea's bio
I've been a teacher for 25 years. First I've taught dance and I've been teaching yoga for the last 13 years. 
I've learned from many great teachers and I appreciate different styles of yoga, which I incorporate into my yoga course. My philosophy of yoga is that our commitment to the path and accumulation of knowledge guides our everyday thoughts and actions. I invite you to come and practice in this intensive TT, where for one month we'll immerse ourselves in all aspects of yoga. 
You will learn:
the practical skills needed to balance verbal instruction, demonstration, assisting and the Sanskrit pronunciation of poses in your class.

to create different yoga sequences enabling your classes to be a creative form of self-expression.

the qualities of a teacher and how to hold the space in a yoga room.

what it takes to be of service and be a pillar in your community.

You will understand the best way to connect to your students by creating a connection within your own mind and body.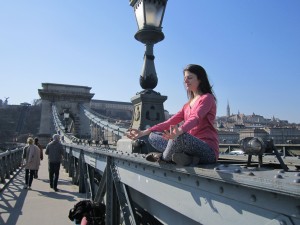 Schedule
The training will be held 8 am till 5 pm each day and will consist of a morning yoga and meditation practice followed by a breakdown of the yoga asana, skill testing and partner work. After lunch we will meet for discussion, teaching fundamentals, and practice teaching. Outside the group classroom, journaling, reading, homework assignments and self-study are required parts of the training.
Looking forward to taking this journey together in beautiful Budapest! If you are looking for a deeper understanding of your practice or want to become a teacher while having fun, join us for this 200-hour Yoga Alliance certified training.
Fees (you can choose from 2 options):
1/ Early bird fee: 1790 EUR (with VAT and tax) if paid in full until 15 May 2016

to be paid in 2 parts: 300 EUR application fee is due together with the application and second payment 1490 EUR until 15 May 2016

2/ Late registration fee: from 16th May:  1950 EUR (with VAT and tax) if paid in full until 20th June 2016 to be paid in 2 parts: 300 EUR application fee is due together with the application and second payment 1650 EUR until 20 June 2016
What does the training fee include?
training manual
180 contact hours
The training fees does not include any accomodation or food. We offer you as an accomodation option to sleep in the studio on yoga mats for 2500 HUF/night (appr.8 EUR/night). Blankets and pillows are included. We are very central located, you can go out for a lunch in the neighborhood or order with home delivery, we help you to find good places. You can use our refrigerator in the studio.
yoga mats, props are free for use in the studio
yoga alliance certificate (if you meet all requirements of the exam)
exam fee is included
Payment methods:
bank transfer (in order to reduce bank transfer fees you have 2 options)
if you send your EUR fee from abroad or you send EUR from Hungary:
Our EUR bank account:
Company:  Yoga Room Kft.  1034 Budapest, Viador utca 18, Hungary
Bank name:  CSOB Bank, Slovakia
IBAN: SK61 7500 0000 0040 1894 9896
SWIFT: CEKOSKBX
EU VAT Nr: HU24698720
If you send your fee from a Hungarian HUF account, and wanna pay in HUF
Our HUF bank account:
Yoga Room Kft. 16200223-10041156-00000000 (Magnet Bank)
If you would like to pay in HUF, please calculate the fee in HUF on a daily exchange rate at www.mnb.hu
credit / debit card (you have to sign in -on the top of this page-first to be able to pay online by credit card!)
you will be able to pay in 2 parts: First you pay 300 EUR as the application fee. To pay the second part later, you have to sign in again to our website and pay the rest- according to your choice (early bird or not).

cash in the studio's backoffice (ASRAM Pest) Mon-Fri 9:30 am-5:00 pm
For more information please call or message us:
studio owner, Nora: +3620-475-9665 (mobile) /or:
office Julia and Blanka Mon-Fri 9:30 am-5 pm + 3620-257-6443 (mobile)   or +361-780-6245 (phone)
E-mail:  iroda@jogakozpont.hu
BOOKING instructions:
You can download the booking form and payment conditions from here:
Watch: Application form and payment policy
See you soon in our studio!
---
Do you have questions? Please contact us!
Bookings
Bookings are closed for this event.